Re: 08/14-15: KIKAIDA Star DAISUKE BAN @ LA's ANIME JUNGLE!
I got back to San Francisco from Los Angeles on Monday night, and had a great weekend! I think that syncronicity is strange. My flight was delayed on Friday, when I got in my pal Dave was already waiting for me, so we took our time driving to Little Tokyo, and took our time parking. As we walked through the plaza, we saw an empty shop full of Kikaida banners, and stopped. Suddenly, I heard (in Japanese), 'August-san, is that you?' -- I turned around to see that it was Ban-san, with Joanne and Shiota-san of Anime Jungle!
After chatting with Joanne and Ban-san, who also just got in from a delayed flight from Honolulu, Dave and I hit a couple of shops, and I had to call my friend Danny in Chicago to tell him of the random meeting with Ban & Co.. When I finished, I started telling Dave where we were going to eat, and Dave brought my attention to someone standing behind me on the street. Someone holding a copy of my book in his hand. WTF? I looked incredulously at him, and he said, "Are you...?" and I finished, "Yes, I am." It was fellow G-Fan, Andrew Ngyuen, who was waiting to have me sign his copy!
So, Dave and I walk across the street to Daikuroya, and get on the waiting list, and talk a couple of minutes with Andrew who had to be on his way. After about twenty minutes, we were seated (the ramen is well worth the wait), and we started pursuing the menu... Dave comments on the music playing in the background, which is hard to hear over the busy restaurant, but i realize that it's The Peanuts (of MOTHRA fame) — I had just checked a couple of shops to see if I could snag one of their CDs! Life is so strange...
Dave and I got together on Saturday with another couple of friends, Edward Holland and Brett Homenick, and spent the day together, and we went to the autograph session, and I had something signed for my friend, Danny, and myself. The dinner/talk show was great (they seated us in front row, center), and the attendees got to have Ban-san at their table for discussions. I presented him with an inscribed copy of my book, which he was very impressed with. We also met some fans who came all the way from Japan to attend the event! Good times!
On Sunday, Dave and I checked out the Nisei Week Parade; it was so cool seeing Ban-san cruising down 2nd St. with Kikaida (we threw up the Shakas as they rolled by)! We waved at Joanne, too! A lot of heads came to the last autograph session; so, I got stuff for absent folks, and I made Dave buy more stuff! Afterwards, we said our goodbyes to everyone, and had a great late dinner. It was awesome spending time with one of my childhood heroes and some great friends!
Here's our gang at Curry House in Little Tokyo, before the Saturday afternoon autograph session: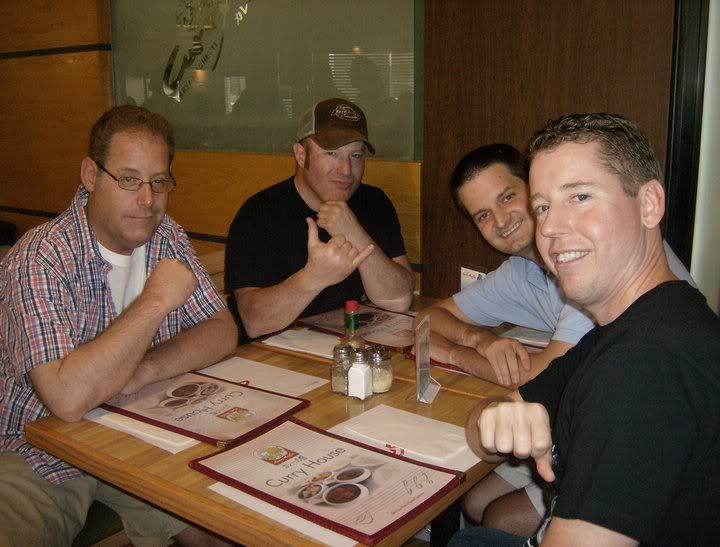 Left to right: David Chapple, August Ragone, Brett Homenick of G-Fan/G-Fest and Edward Holland of Monster Attack Team.